definition of a

Cloche ...
1. a bell-shaped glass jar used to cover delicate plants.
2. a close fitting, bell-shaped hat for women.
So ... what are all the other things we call a cloche?
You be the judge ... lots of pictures ...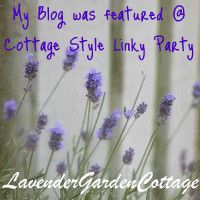 This blog was featured by: Lavender Garden Cottage: Cottage Style Party
Thanks Deb
AND
Revisionary Life Thrifty Things Thursday
Thanks Revi

.
I do have one bell-shaped glass cloche that houses a real bird nest on a stack of grapevine.
Now this IS a cloche.
and HERE
Old metal bird cages make a wonderful display cloche.
One sitting on a glass cake pedestal plate shows off the display really nice and the other on a silver plated cake plate.

Both are brass HENDRIX cages but one has a screen around the bottom.
wooden dowel stick bird house with a metal lantern inside that serves as a night light.
I believe it is already rented.
A large glass and metal house display/cloche that I bought in 2009 to sell on eBay ... never listed and never displayed.
Cost $15.oo for the frame and $20.00 to have the glass pieces cut. Must find a perfect place to use this.