On Sunday, when we took our sister-in-law home after Church, I was happy to see this old table still sitting out by the street ...
(I had seen it the week before and tried to load it by myself, but could not even budge it).
I asked Mr. Z. if we could go home, get the pickup and come back to get it because I needed the legs.
We could if I would go ask the people if we could take it.
Duh ... the house was for sale and I knew the people had moved ... but to please him,
... padlocked with a Realtor lock and totally empty.
Well, anyway, Mr. Z. was happy enough with that.
We started with ...
... what I had hoped would become my harvest table.
I had a top ... just needed the legs ...
I have to tell you this table was H.E.A.V. Y.
It was really a job to get it loaded.
Then we discovered it was not a table
but a very old oak veneered student school desk with two drawers so would have to just be restored.
It is 35" wide and 6' long.
It had been used for a work bench as evident of the holes where a vise and maybe a grinder had been mounted. A little oily in places and the veneer was "toast".
We cut the veneer down the middle to make removal easier. The first half came off pretty easy and the second half came off in one piece with a little encouragement.
The top was constructed of various widths of hardwoods and veneered both top and bottom.
This likely helped to preserve the beautiful woods underneath the veneer.
We took it apart and removed all veneer. The top boards are one-inch think and the edges were also veneer as well as two sides of each leg. (will explain later)
Sometimes veneer can be real hard to remove,
but with the right tools, it is not hard. Being dried out helped.
I just wet a small section with full strength vinegar ... sat a very hot iron on the wet spot to send hot steam down to release the glue. (plain water works too) ... then took a spatula (flexible one is better) and pushed under a loose part of the veneer and it pops right off. A box cutter with a sharp blade is helpful to help raise the stubborn edges.
Keep the section hot as you work. If there is a stubborn spot,
just wet and heat it again.
We did use the heat gun some, but the iron worked better.
Heat gun will actually catch the dry wood on fire.
Use an old iron as you can see what it does to it.
This is my shop iron and yes, I will clean it.
Hint: ...you can also re-glue a loose or bubbled section of veneer by this same process, by steaming the spot with a wet cloth until it lays flat ... (no vinegar)
then protect with wax paper and weight it down until dry.
Every surface was sterilized with straight Clorox ...
which ate the pure bristle bushes in no time.
After letting it eat two brushes ...
I changed to a different kind of brush.
Clorox bath was stabilized with pure Vinegar and then washed off with Murphy Oil soap and water.
The Tack Cloth was used to pick up dust after sanding.
The cloth started out white and the amber one is full of dust.
I went through about four of these.
My BOSCH and RIDGID sanders were real work-horses.
I asked for the Bosch for Christmas ... and got it !!!
Also used lots of clamps and wood clue.
This is actually the top after the veneer was removed and had been thoroughly sanded.You can see the evidence of oil on the wood. We turned this side to the bottom as the other side did not have as much oil stain.
I can't really identify the hardwood as I think some were oak, cherry, maple and maybe walnut.
As our grandson said ... why did they cover up the beautiful wood with ugly veneer?
I left knot holes and all the natural beauties in the wood.
To fill the drilled holes; we drilled "plugs" from an old piece of oak ... as you see, I have drilled plugs many times over the years. The smaller holes on the top right, were filled with a pine dowel as my plug cutter for that size was damaged. Run the grain of the wood in the plug the same directions as the grain in the board and it will be less noticeable. Wood filler was needed to fill some of the damaged area around the holes.
Notice the top left hole in the first picture ... it fits perfectly.
Drawers were taken apart; thoroughly cleaned and sanitized ...
then rebuilt with new bottoms. Inside of each drawer was painted.
Some of the dove-tail joints were damaged or missing and we had to rebuild them and fill with hard-as-nails wood filler.
Now the legs ...
... constructed with three pieces of wood ... solid oak on the front and back and oak or another hardwood in the middle. The side where the joints showed was veneered to make them look solid. I Loved the look of the three woods, so did not put veneer back on. The end of the legs were originally covered with a brass cap, but three were missing, so I opted to just leave them off and enjoy the pretty woods. They did clean up a lot better than what you see here. Furniture glide tacks were added to the bottom of the leg.
Used:
Minwax pre-stain
Minwax Provincial wood finish
Rub-on Poly Seal
Well ... what do you think ... worth saving from the dump?
Love my Harvest Table/Desk ... but it will be up for sale ...
no room in the house for it.
I appreciate your visit and comment.
If you have trouble completing a comment,
please let me know so I can try to fix it.
Joining these parties ...
The Dedicated House-Before and After Wednesday
Cozy Little House-Tweak It Tuesday ...
You're Gonna Love It Tuesday-Kathe with an E
Coastal Charm Nifty Thrifty Tuesday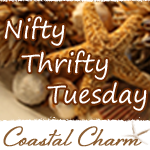 Funky Junk Interiors Upcycled Link Party
Revi at Revisionary Life ...Thrifty Life Thursday.
Angie at Knick of Time Tuesday