"Beauty and the Beast" ... featured .....
Knick of Time Interiors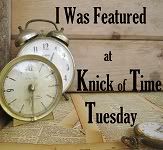 Thanks Angie ... I am really honored.
The BEAST ...........
This "beast" was part of my Fab Finds for $14.00 and can be seen here ...
This old caution-orange toolbox tote is the "beast" ... the orange just did not want to go away.
I sanded it down a little, painted it with a light gray paint ... (Olympic)
the orange still wanted to shine
... a second coat got it covered ... light sanding ... here comes the orange again. Would not take stain, not even shoe dye!
Sooooooo, I tried to "kill" it with KILZ ... that worked ... more gray paint ... light sanded, orange still showing. Just would not go away.
Decided to just live with it and stripe it back and front and let it be rustic ...
see it ... the ORANGE under the handle !!!
Then I spied this sample can of Summer 2012 Valspar paint I bought at Lowe's and decided to turn this "Beast" into a "Beauty" with a little Bling.
Stenciling and a little "Bling" qualified it as a "beauty" to be staged with this beautiful, vintage, lacy oval tablecloth that I
bought at an Estate Sale for $15.00.
It is 114" long and 70" wide
.
A rhinestone button, a lace bow, an old lace handkerchief, a dollie and an antique picture of a beautiful young lady was a nice addition.
The small crystal bowl of mother-of-pearl buttons and a shell just add to the soft, vintage feel.
Draping the tablecloth as a backdrop for this vignette ... oh my, what a beauty !!
Stencils both ends and both sides.
Hope you enjoyed the make-over of turning this "beast" into a "beauty" ...
Thanks for the visit ... I appreciate your comments and suggestions.
Audrey Z.
find me at: What-About.co
Hooking up With House of Hepworths
Primp Junktion
Linking to: I Gotta Create ...
2805
Knick of Time Tuesday
The Dedicated House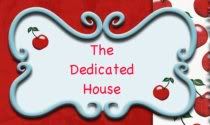 Southern Hospitality
Debbiedoo's Newbie Party with a Twist
Do It Yourself Project Parade