Looking down the long hall from the living room; there are six plain doors ...
three to bedrooms/office, one bath and two closets. At the end of that hall is a linen/storage closet. For years, I just hated looking at that brown door ...
so I wallpapered it and hung a window.
I decorated the mirror window with grapevine, grapes and birds. This is where I hung my natural bird nests and a stuffed cloth cat to protect the birds. (no not to eat the birds ... protect them)
Over the years there has been many different things placed in front of that door. It is a storage closet and seldom entered, so moving a piece of small furniture; a plant stand; a rocking horse or any other object was not a problem.
It was time for a change and this week, I put together this bottomless birdcage lamp.
It has been outside for a lot of years and is pretty weathered. The birdcage stand was purchased many years ago and not really used. Just took up space in a closet. It was wired to plug in a small hanging light, so all I had to do was install a light fixture inside the birdcage and plug it in. The light fixture came from Restore Habitat for Humanity and cost $1.00. The two night light bulbs are just the right amount light for that corner of the hall.
The inside of the cage is dripping with glass prisms ... the cute little bird proudly sits on her perch that is also decorated with prisms ...
... even has one on the door.
Angie from Knick of Time offers the most amazing free graphic. I chose a silhouette of birds on a branch to decorate the plastic light sockets covers. Check out Angie's free graphics. You will have fun with them.
On top the cage, sits a pretty white bird nestled in a bed of Fall leaves that covers the plug. Decoration can be changed with the season.

I think I will enjoy this for quite a long time.
My natural bird nests have gotten a little tattered over the years but I still enjoy them ...
... especially the humming bird nest.
Thanks for stopping by for a visit ... leaving a nice comment is most appreciated and will let me know of your visit. I read every comment and comment back.
I

'm a "

STAR" tonight in the "lamp lineup" over at I Gotta Create!
Hop on over and see all the great lamps she pinned a STAR on.
I will be linking t

o:
Knick of Time Tuesday #

59
2805 Potpourri Fri

day #46
Savvy Southern Style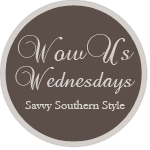 I Gotta Create
Finding Fabulous

B

log
Blessing

s,
Audrey Z.
Timeless Treasures