I have shown you some of the junk I have bought at the 25¢ Thrift Store Sale every Wednesday, but this is about
"Pickin' the GOOD stuff".
Have your every seen something in a Thrift store that you really loved but just kept telling yourself you had no room for it? Every time you went in, there it was, telling you to
The $9.00 price tag on the casserole and $12.00 on the platter were good prices ... but I just did not have room for any more dishes. They were sitting on a china cabinet in the back of the Store ... then one day the store had a large table of items down one aisle marked with pink tags ...
pink tag = $1.00.
In the back of the store ... still sitting on the china cabinet ... this beautiful set I loved ... with PINK tags but had not been moved to the $1.00 table. I asked the clerk if they were really $1.00 even though they were not on the table ...
YES ...
... how could I not buy them ... space or no space?
From an Estate Sale ... two wicker covered wine jugs ... one is aqua glass and the other one is a brown crock ... beautiful condition ... the jugs, the four drawings of patents and a few other small things were $45.00.
I was delighted to say the least!
(you can click the picture of the drawings if you want to see a better picture. They are pretty neat.)
Restore, Habitat for Humanity ... $5.00 each ...
Courthouse or Lawyer/Bankers chair.
Heavy and in very sound condition. Need just a little TLC.
Thought these might be good for the new cabin at the Ranch.
Large hand blown glass float 25¢.
Beautiful platter ... don't remember what I paid for it but the colors are great together.
Silverplate and stoneware ... fun stuff to decorate with.
Three Royal Copenhagen porcelain fat Robins were half-price at $7.00 each.
A old man that sets up on the side of the street had these to offer one day. The brown bottle is in a metal frame with a handle for pouring ... maybe a liquor bottle in a bar. Large terracotta lantern, nice old wire basket; a beautiful green demijohn and a cute little hand painted chalkboard/slate. All for $50.00.
These very early, maybe late 1800's, tin barn lanterns may be worth $100.00/$150.00 each on eBay.
I plan to put vintage stain glass in the two that has the missing glass.
Don't fall off your chair seeing what I paid for them.
75% off regular price ... unbelievable !!!
Another week, I bought these faces from the same old peddler on the side of the street for $5.00 each. Not my style but thought they could be of some value. He said he had them for twenty-five years. Still doing research on them.
Can you help in identifying these clay pieces?
Backs ...
Hope you enjoyed seeing these treasures ...
Some will be sold on eBay ...
Some already given to our daughter ...
Some for our annual Community Garage Sale in June.
The Dedicated House: Make it Pretty Monday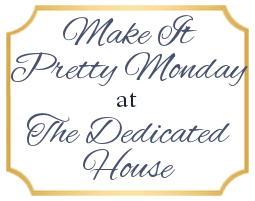 Revisionary Thrifty Life Thursday